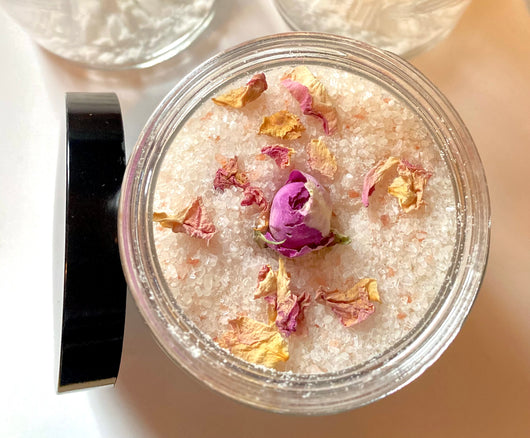 "Island Rose" Bath & Foot Soak
Pure Body Nantucket
Regular price $24.00 Sale
Like a little vacation in a jar, this will make you dream of Nantucket beach walks with salt air and roses. Treat yourself to a luxurious spa-like experience with "Island Rose" Bath & Foot Soak. Draw yourself a warm bath or foot soak, and enjoy the relaxing blend of soothing salts and essential oils. This aromatic escape with rose petals will help you enjoy a truly blissful moment. Feel your stress melt away and let this perfect relaxation time be your reward.
Product Benefits:
Epsom Salts (Magnesium Sulfate) and Dead Sea Salt (Magnesium, Sodium and Potassium Chloride) to help ease muscle tension.

Himalayan salt helps to gently exfoliate and revitalize skin.

Colloidal oatmeal helps soothe and replenish the skin's natural oils.
A beautifully soft, subtle rose aroma made with a blend of Organic Sweet Orange, Bergamot, Rose Geranium and Vetiver essential oils.
Soak comes in an 8 oz glass jar, enough for four full bath soaks or sixteen foot soaks.
Ingredients:

 

Epsom Salt (Magnesium Sulfate), Himalayan Pink Salt (Sodium Chloride), Dead Sea Salt, (Magnesium Sodium and Potassium Chloride) Colloidal Oatmeal, Tapioca Starch, Sweet Orange, Bergamot, Geranium and Vetiver Organic Essential Oils. Organic Rose Bud and Petals.

Size: 8 oz glass jar.

Bonus! Jar comes in a re-usable Pure Body Nantucket travel bag. 
How to Use for Bath
: Pour a 1/4 of jar into a warm bath
right after filling
, Enjoy for up to 20 minutes. Before emerging from tub gently exfoliate any layers of dead skin away by moving a cloth or hands in circular motions along your body starting from ankles.
For a luxurious foot bath,
add one tablespoon to a large bowl of water for a luxurious foot soak. After soaking feet for 15 minutes, gently exfoliate feet by pouring a teaspoon of dry soak into your hand and gently using it to scrub bottom of feet.  Dry feet and apply my
Nourishing Body Oil
or your favorite moisturizer before slipping feet into socks. 
For a full spa experience and for super soft skin,
follow bath with a short shower and my
Nourishing Body Oil.
And for those of you that meditate, a foot bath is a wonderful and deeply relaxing addition to your practice. 
Each Jar contains an organic rose bud and petals. Please dispose of before draining water.
The Soak is Made without: Parabens, phthalates, synthetics, artificial fragrance, colors or animal cruelty.
Made with care on Nantucket Island.
Our promise…a portion of sales from Pure Body Nantucket are donated to help support health programs.